IT Asset Lifecycle Management
Be equipped with the right tools to ensure that all your IT assets are supported and taken care of, eliminate any confusion over when their End-of-Life is approaching. by tracking the lifecycle of your hardware and operating systems. Remove the risk of unsupported assets and leverage the lifecycle data to know when End-of-Life or End-of-Support of assets are reached.
Track your Assets' lifecycle to guarantee hardware and operating system.

Retire or replace assets that have gone end-of-life before they become a security risk.

Guarantee the continued support and maintenance of your assets.
Cross-Platform IT Asset Discovery
You don't have to install any software on your machines to discover all the IT assets in your network. Lansweeper gathers information on assets, including hardware specs, installed software, user details, and more. With End-to-End visibility, you can eliminate one of the biggest barriers in IT and save valuable time and resources.
Complete and up-to-date asset inventory.

Automate your IT asset discovery and save time.

Credential-free Device Recognition.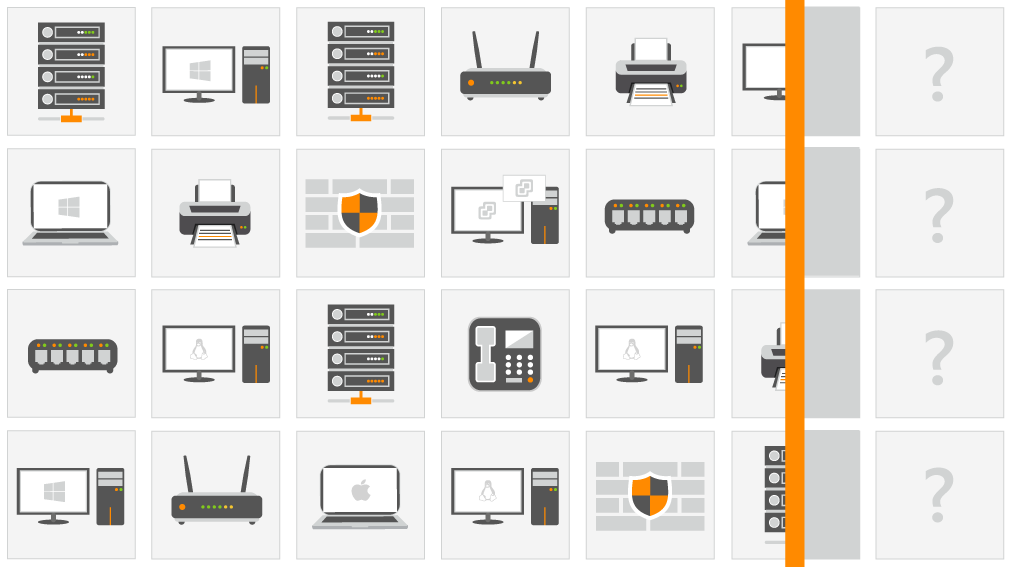 All your Hardware, Software and Users, all in one place.
With Lansweeper, you can consolidate all asset details in a centralized, web-based System of Reords. It offers corporations complete visibility into their distributed IT environments, informing them which assets they own, where they are located, who is using them, and much more.
Hardware Asset Inventory.

Software Asset Inventory.
Choose from over 400 ready-made, out-of-the-box network reports or build custom reports within minutes to get a quick overview of all the data in your IT environment.
Gain actionable insights into your environment.

Complete visibility and gain insights into your environment.